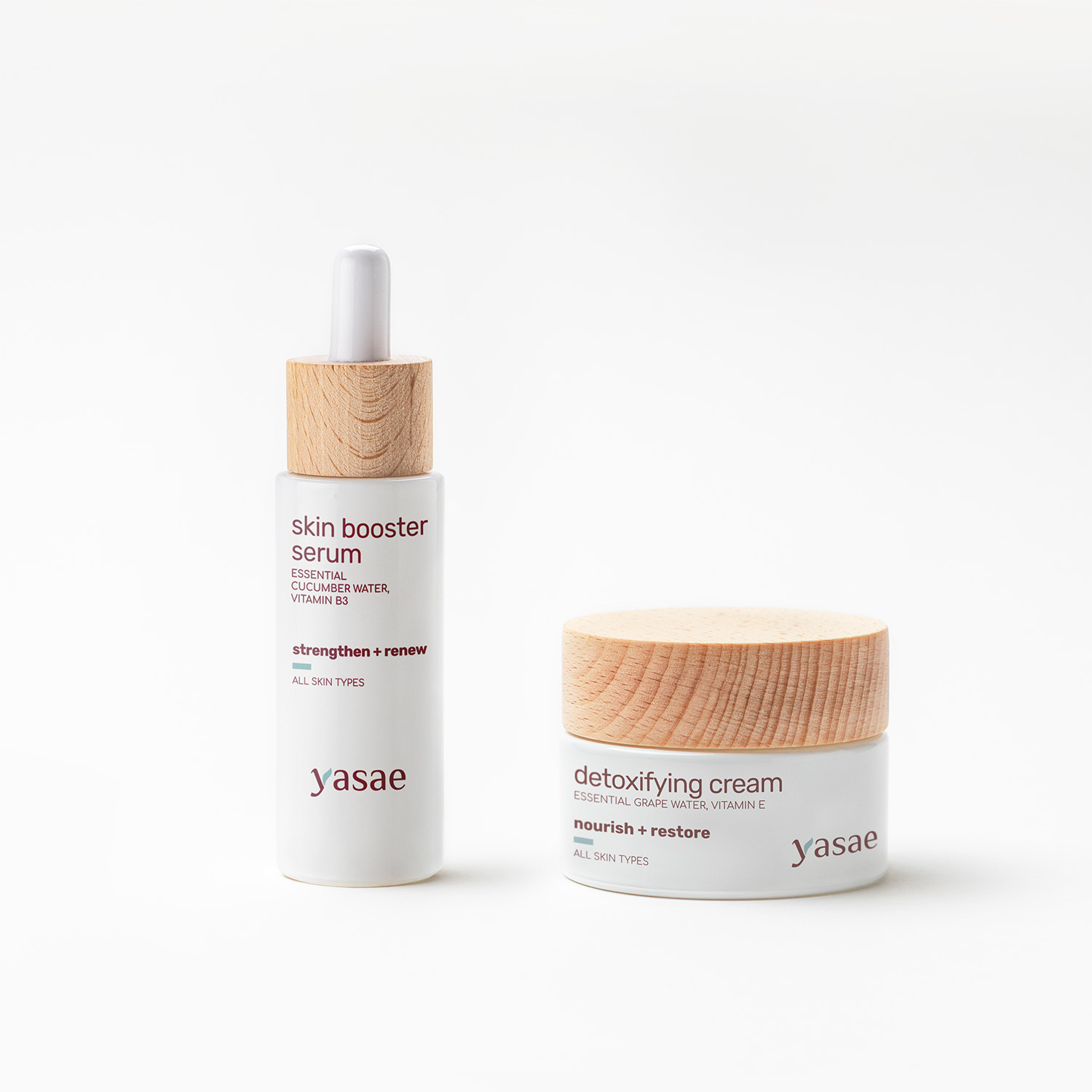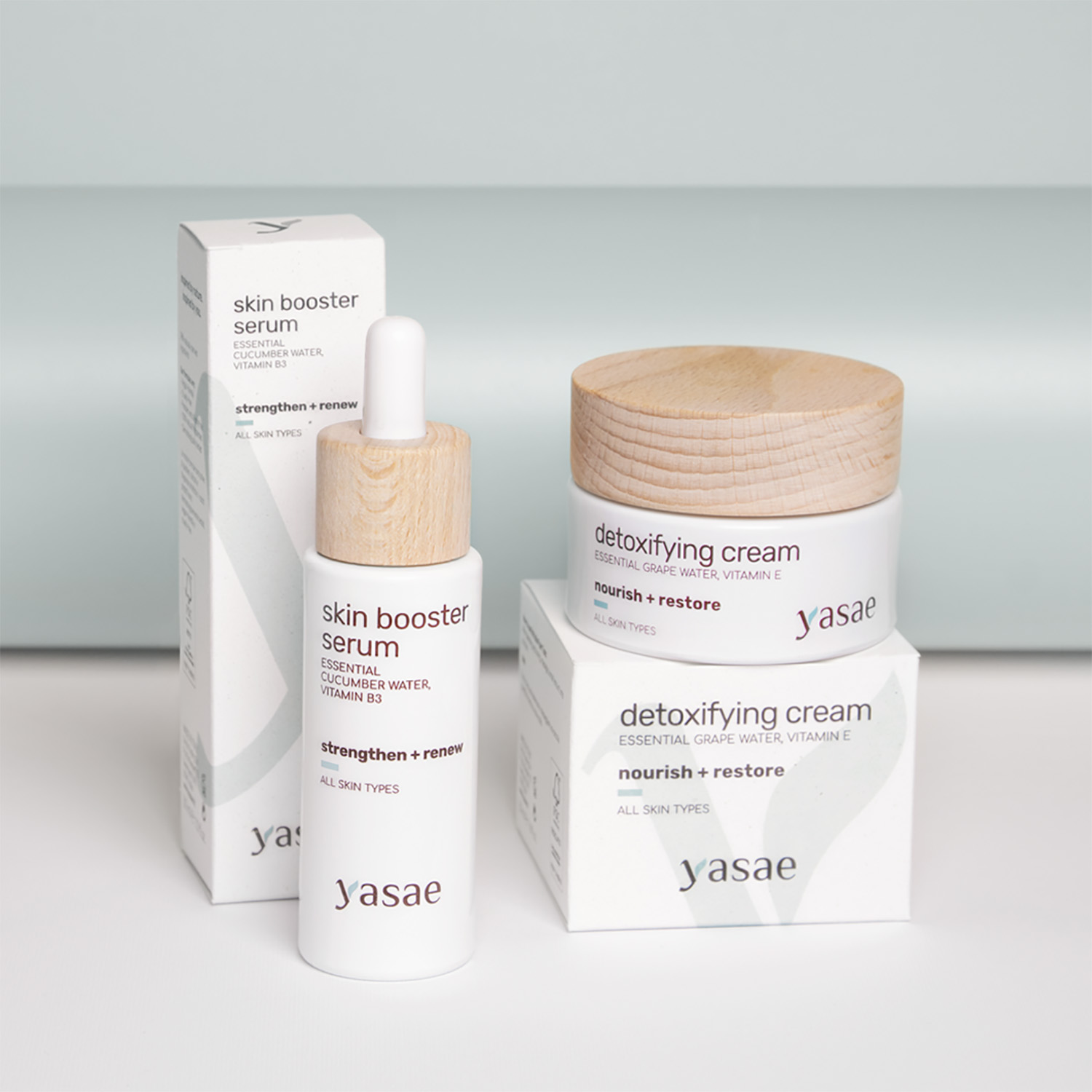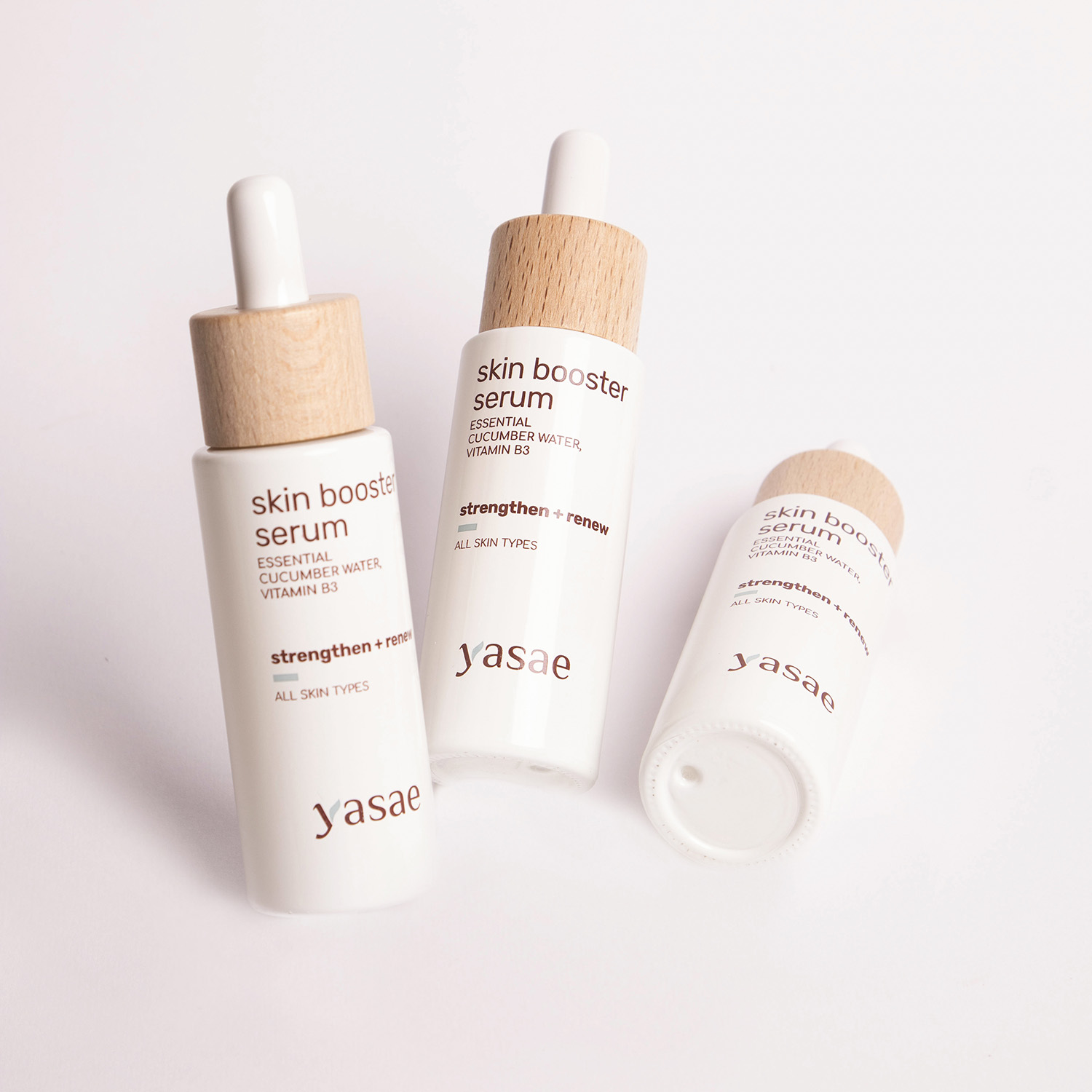 The Youth Essential Duo
Two essential steps to regenerate and deeply nourish the skin, giving your face a youthful and healthy appearance.
The Skin Booster Serum strengthens the skin's natural barrier, tones and fights imperfections, leaving the skin brighter and more even.
The Detoxifying Cream with detoxifying and purifying action soothes and deeply nourishes the skin, combating premature ageing.
Thanks to their light and easily absorbed texture, both products can also be used around the eyes.
The Youth Essential Duo is the perfect combination to give your skin a boost of energy and vitality.
Main ingredients Skin Booster Serum:
Cucumber Essential Water: with refreshing and revitalising properties, gives a boost of moisture to the skin, leaving it more supple and soft.
Vitamin B3: Strengthens the skin's natural barrier, regulates sebum production and reduces imperfections, leaving the skin looking young and healthy.
Main ingredients Detoxifying Cream:
Grape essential water: rich in powerful antioxidants, it deeply nourishes the skin and promotes cell regeneration.
Vitamin E: fights skin dehydration and premature ageing. Revitalizing and toning, it gives the face a fresh and rested look.
USAGE
Apply a few drops of Skin Booster Serum to cleansed skin and massage in until completely absorbed. Next, massage a small amount of Detoxifying Cream onto the face and neck. Both products can also be applied around the eyes.
Shipping: Shipping costs will be calculated at the checkout stage. We are the spokesperson for a community of artisans, so each item is shipped directly from the person who made it.
Delivery times will respect the rhythm of those who have worked on this project with care. For beautiful things you have to know how to wait.
98,00 € Euro
5 in stock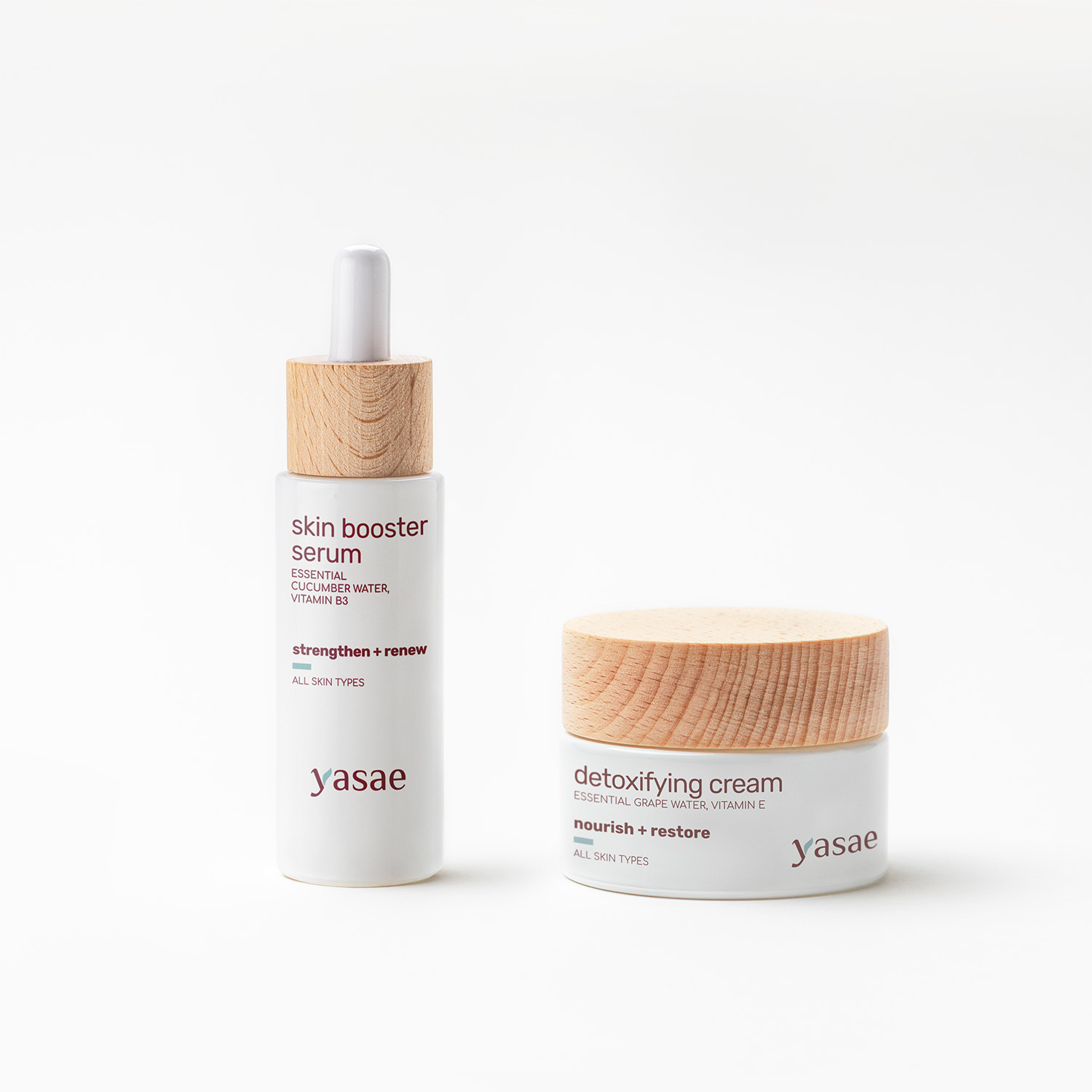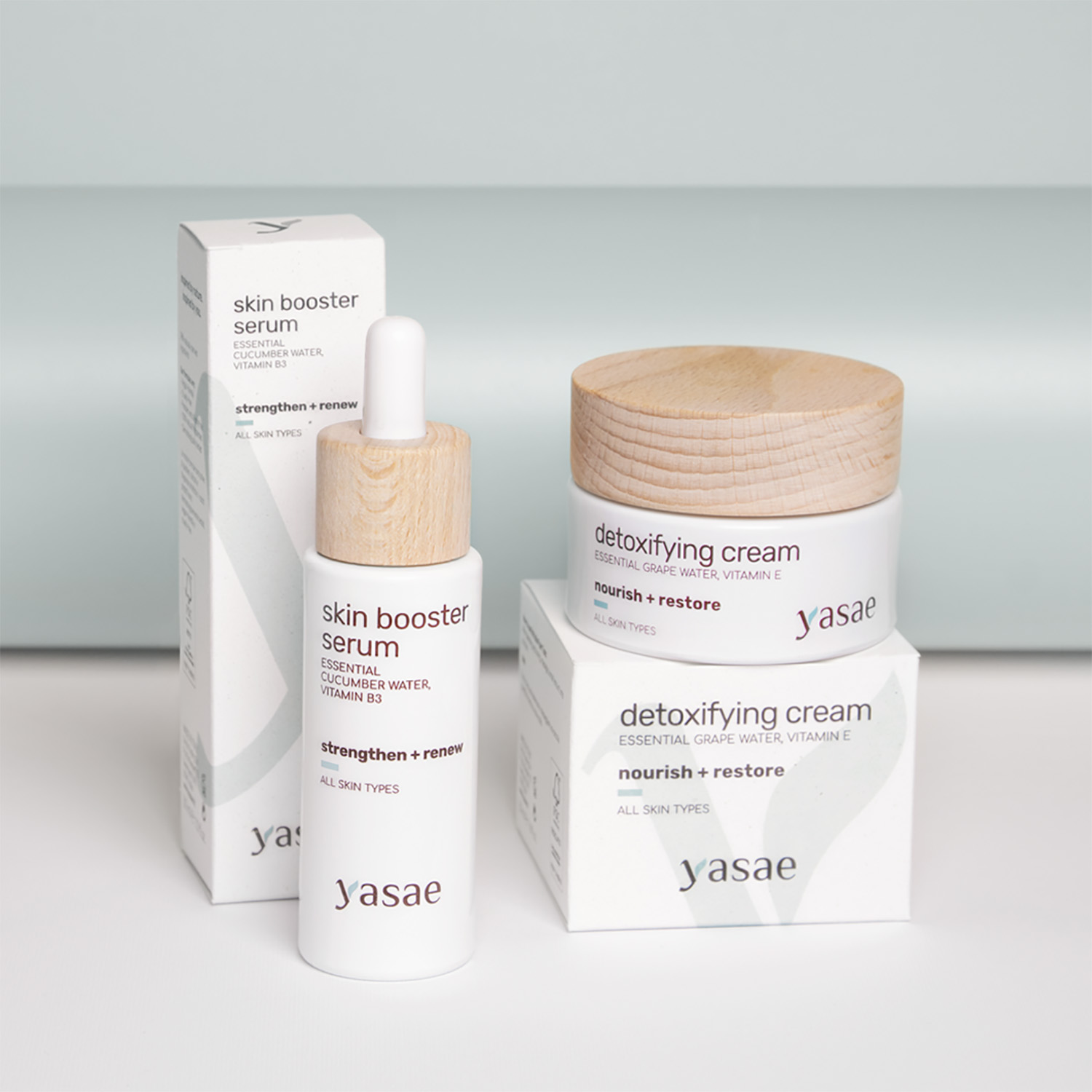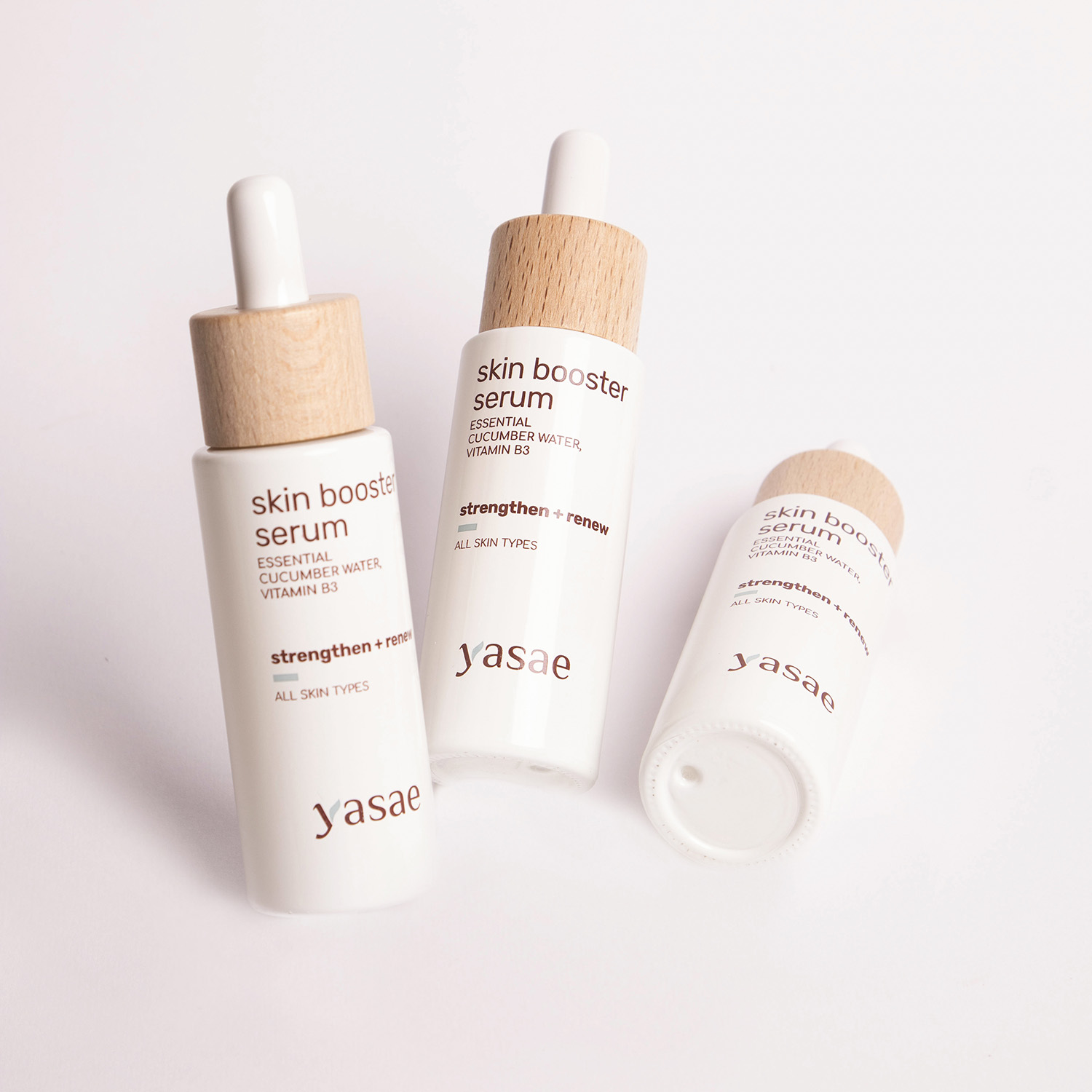 Find out who made this item
Yasae is a 100% natural, made in Italy, genderless and eco-sustainable skincare brand.
Its line consists of 6 practical and multifunctional products to give the skin the right daily hydration and protection.
A smart, simple and effective skincare routine, suitable for all skin types and ideal for those who live in an urban context.
Yasae formulas feature organic water extracted from selected plants through a dehumidification process. This innovative method allows the entire plant to be used while preserving the active ingredients it contains, making the products more effective and natural.
Vegan-friendly and cruelty-free, the entire line is formulated and packaged in an ethical and sustainable way, using eco-friendly materials. Yasae's mission is to celebrate one's uniqueness and body through caring for ourselves.